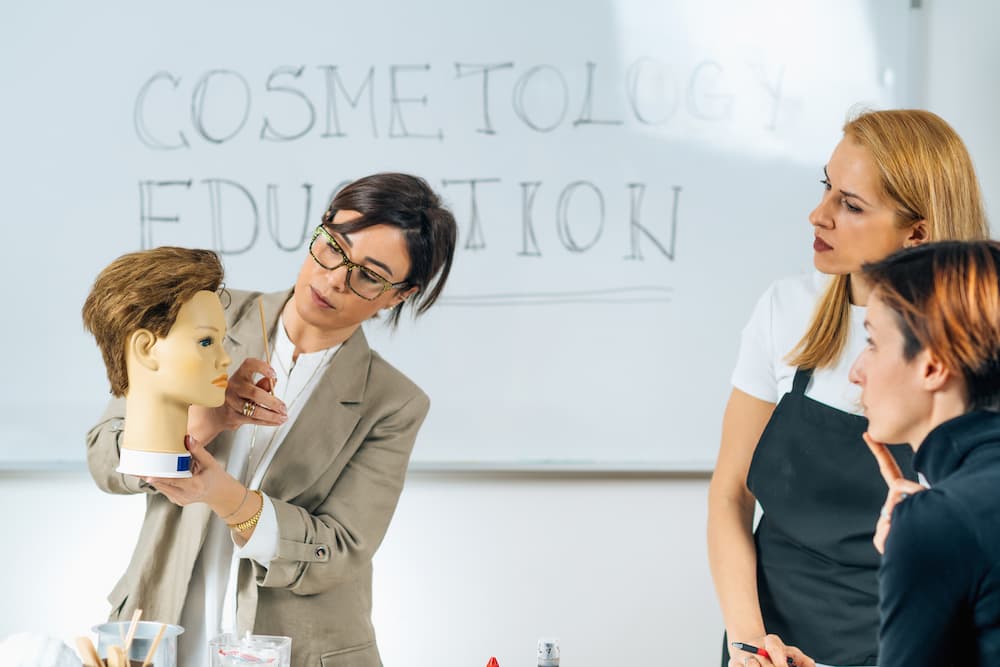 As a high school student, you are probably beginning to think about potential careers. Now is the perfect time to start exploring career paths because you have the time and flexibility to consider your interests and talents and research your options. If you have a passion for beauty-related things, cosmetology school may be the perfect career path.
Can I Enroll While Still in High School?
Each cosmetology school has specific admission requirements. Some schools allow students to enroll as young as 16 years old, which means by junior or senior year, many students are eligible. Other schools require students to have a high school diploma or GED, but in most cases, early high school graduates still have the opportunity to attend cosmetology school before turning 18. Checking out a cosmetology school's requirements ahead of time will allow you to choose the right school and begin preparing for enrollment.
Vocational High Schools
Many high schools partner with vocational schools, offering high school students the opportunity to take cosmetology courses. These partnerships are excellent opportunities to study beauty topics and explore the possibility of a career path in cosmetology while in high school.
These vocational programs give students practical, hands-on experience in the trade, or potentially complete internships, while still earning their high school diploma. If the program or courses are focused on cosmetology, students will enjoy learning about hair care and design, skincare, nail treatments, and more. Students are still required to continue their educational pursuits at cosmetology school and take state exams, but it is an excellent opportunity to explore their passions and career opportunities.
Dual Enrollment or Concurrent Enrollment Programs
Dual enrollment is another option for high school students. Students should contact their high school counselor or local cosmetology school to see what options are available. If they can enroll at a local cosmetology school for a couple of lecture-style courses, they will have a head start before officially enrolling. Specific state laws and hour requirements will vary, but there is the possibility of being able to test for certification more quickly after high school graduation when choosing this route.
Relevant High School Courses
If you are not old enough to enroll in your cosmetology school of choice just yet, and there aren't dual enrollment or technical school options available, you can still choose high school courses that will help prepare you. Your high school education will make you a more well-rounded individual and better prepare you for any career path.
Art Classes
Your creativity will flourish in traditional art classes if you enjoy applying makeup and nail polish. Fine arts classes teach everything from complementary colors to fashion through history and allow you to create with your hands. You can even integrate creative makeup and hairstyles into your assignments.
Business and Marketing Classes
Once you have your cosmetology license and start your career, you will likely market yourself, build clientele, and track business expenses. Suppose your high school offers business or marketing classes. In that case, this is a good time to decide if you might be interested in going into business for yourself and managing or opening your own salon.
Start Your Cosmetology Career While in High School
When it comes to learning about cosmetology, high school students have different options and should consider the most beneficial path for their circumstances. If you want to learn more about cosmetology school, Rizzieri Aveda School is happy to help. You can reach out to us to schedule a tour, discuss state requirements, certification, and cosmetology options for high school students. Contact us to get all of your questions answered or begin enrollment today!
Image Source: microgen / GettyImages